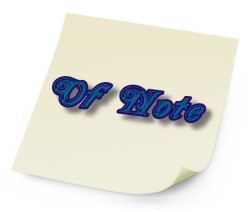 Yes, I know that "Of Note" is a weekend feature and it's now Monday.
But, I spent the weekend up to my elbows in paint. (Some of you may already now that we are in the process of moving into a different house.) Anyway, I wasn't anywhere near a computer and couldn't post.
I wanted to go ahead and give you last week's "of note" blog anyway because it's a good one!
This week's notable blog is John Hewitt's PoeWar. Despite the fact that this site has been around for some time, I only discovered it recently. (That just goes to show how big the writing blog niche really is!)
One feature that is unique about John's blog is that he features a section on poetry. I don't know of too many freelance writing blogs that have a poetry category.
If you're like me and you've somehow missed finding John's blog, then you'll want to correct the situation as soon as possible by paying a visit to PoeWar.
The last "of note" blog was How Not To Write. You can read my review of that site here.
Note: If you're consistently posting great information and have't seen your blog featured in Of Note yet, I apologize. I'll probably find you soon. But hey, why not drop me a note (laura at symbol writingthoughts dot com) and tell me why you think your writing blog is notable? If I agree, then I just might feature it here.
Contents (c) Copyright 2008, Laura Spencer. All rights reserved
Image Source: Laura Spencer