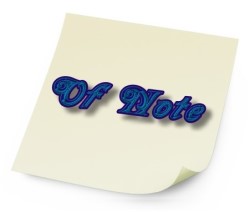 This week's notable blog is Jamie Grove's How Not To Write.
I'm sure that all writers will be able to relate to this blog at one time or another. In a recent post, Jamie claims to have written two novels "that were absolutely dreadful."
(If the writing on How Not To Write is any indication of skill, then I'm betting that those novels are not half-bad.)
Other recent posts at How Not To Write include:
One thing that I like about this blog is that it's both candid and humorous at the same time – which makes for some good reading.
Note: If you're consistently posting great information and haven't seen your blog featured in Of Note yet, I apologize. I'll probably find you soon. But hey, why not drop me a note (laura at symbol writingthoughts dot com) and tell me why you think your writing blog is notable? If I agree, then I just might feature it here.
Contents (c) Copyright 2008, Laura Spencer. All rights reserved