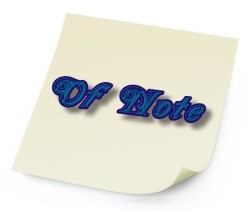 "Recognition for this blog is overdue."
At least that's what I thought about Daily Writing Tips when I was deciding which blog should be this week's blog "Of Note."
So, I have a confession to make. I have been reading Daily Writing Tips, and I've been enjoying it, AND I haven't told you all about it. At least not yet.
That's what this post is for.
Daily Writing Tips is the work of at least four writers: Maeve Maddox, Michael Moser, Colin Galbraith, and Sharon Hurley Hall. There is also an editor: Daniel Scocco.
This blog represents good, basic writing information at its best. If you're serious about freelance writing (as I am), then I'm sure that you'll want to review this blog often for the tips and advice that it offers.
Some of my recent favorite posts at Daily Writing Tips include:
The truth is, if you're a writer, then you're probably already reading Daily Writing Tips. In case you're not: I strongly recommend it.
Note: If you're consistently posting great information and haven't seen your blog featured in Of Note yet, I apologize. I'll probably find you soon. I know there are a lot of great blogs out there; I discover more new ones each day. (So many blogs, so little time.)
Contents (c) Copyright 2008, Laura Spencer. All rights reserved