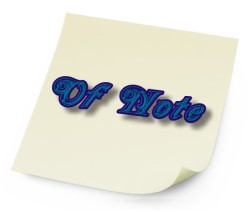 I did it again. I missed posting the "Of Note" selection during the recent (U.S.) holiday weekend.
Not to worry, however. I have selected an "Of Note" choice for this week and I think that you'll enjoy it.
To find this week's selection I decided to perform a Google search for "Writing Blogs." On the very first page of my search results I noticed a blog that a lot of my online StumbleUpon friends have reviewed – the blog was Randy Ingermanson's AdvancedFictionWriting.com.
While Randy's blog is new to me, I decided that the StumbleUpon friends were probably right about the blog so I decided to take a look. (I must admit, I was a little nervous about Randy's tag line which includes the phrase "America's Mad Professor of Fiction Writing." A quick look at Randy's blog calmed my fears, however.)
Randy uses a question and answer approach in most of his blog posts as he deals with fiction-writing questions from his readers. Randy also uses popular fiction examples to illustrate his points. The result is a highly readable learning treat for the fiction writer, or aspiring fiction writer.
If you are a fiction writer (or want to become one), then I'd definitely recommend that you take a look at Randy's blog.
Note: If you're consistently posting great information and have't seen your blog featured in Of Note yet, I apologize. I'll probably find you soon. But hey, why not drop me a note (laura at symbol writingthoughts dot com) and tell me why you think your writing blog is notable? If I agree, then I just might feature it here.
Contents (c) Copyright 2008, Laura Spencer. All rights reserved
Image Source: Laura Spencer