The Step By Step Guide to Freelance Writing Success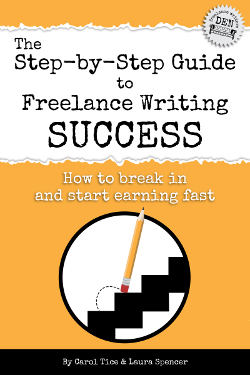 My latest ebook project is great for freelance writers of all types.
The ebook is the perfect resource for new freelancer writers or freelance writers who are struggling.
The Step By Step Guide to Freelance Writing Success by Carol Tice and Laura Spencer addresses five common areas where freelance writers get stuck. It also solves the 12 most common freelance writing problems.
Inside you'll find:
How to Find Your Best First Markets
How to Market When You're a Newbie with No Clips–Without Seeming Desperate
10 Marketing Strategies for New Writers
Build Your Confidence to Negotiate for Good Gigs
Insider Tips and Tricks for the Pro Writer
How to Avoid the 12 Biggest Mistakes of New Freelance Writers–and Earn Big
The book has over 100 pages of relevant freelance writing advice.
To learn more about The Step by Step Guide to Freelance Writing Success, click here.
How to Start A Freelance Writing Business (NO LONGER AVAILABLE.)
Important Announcement! Starting in 2014, the How to Start A Freelance Writing Business ebook is no longer available from the publisher. My apologies and stay tuned for future publications.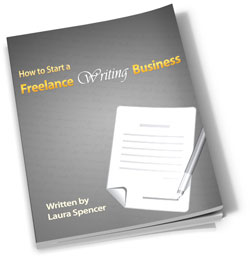 How much would you pay to be able to set your own hours, choose your own workplace, and determine which projects you will do and which you will not?
What if you could have all of the above while doing something you love?
For me, that's what it's like to be a freelance writer.
Freelance writing might be the right career choice for you too.
To help you get started, I've taken what I've learned about starting a writing business and included it in this easy-to-follow guide, How to Start A Freelance Writing Business.
In fact, if you follow the steps I detail for you then you should be able to avoid making some of the mistakes that I made.
Topics covered in this ebook include:
A discussion of what freelance writing is and various types of freelance writing
Instructions for selecting a freelance writing market, specialty, or niche
An explanation of how to brand yourself as a freelance writer
Details on how to set the right rate for the work that you are doing
A discussion of how and where to get your first (and subsequent) clients
Tips and tricks for managing freelance writing projects
Additional resources, and more
This resource is no longer available.
(Note: This page contains my affiliate link.)