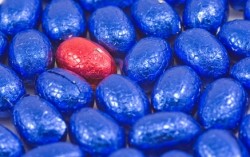 It really is. Okay to be yourself, I mean.
As a blogger, I find myself subject to all kinds of advice about how I ought to operate this blog.
"You ought to post five times every day."
"You ought to add XYZ plug-in."
"You ought to shorten/eliminate your blogroll."
"You ought to sign up for ZYX affiliate program."
And on, and on, and on. . .
Most of it is well-meaning, and I appreciate the concern.
In fact, I've done my share of dishing out advice here on this blog, and elsewhere on the Internet – all with the best of intentions, of course.
In fact, if I tried to incorporate every single piece of advice that I've been given or that I've ever read I doubt that I'd ever get anything else done.
Blogging is a great way to learn and gather information and to collaborate with others, but all that information can produce blogging stress if we take it too much to heart.
That's why I'm declaring today that, despite what all the "advisors" might say, it's okay to be yourself. It's okay to make mistakes and to work at your own pace.
It's okay to be yourself.
Whew!
Pressure off!
Contents (c) Copyright 2008, Laura Spencer. All rights reserved
Image Source: www.stockxpert.com