How important is it to have a photo of yourself on your blog?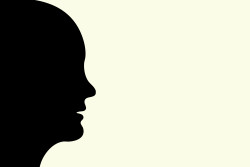 When I first started blogging the lack of a photo on my About page was one of the biggest criticisms that I received.
"Readers can't trust you if they can't see you" I was told.
"Nobody will take you seriously if you don't display your picture" another commentator added.
It's been over a year. While I notice that I still haven't gotten around to adding a photograph of myself to WritingThoughts, I have accepted other blogging gigs that have required me to post my picture. I've also started using my photo in social media networking.
How valid were those early comments?
I wonder…
A quick survey of some very popular sites shows that there are several that lack the blogger's photo (as far as I can tell), including:
(Note: As of 2015 when I rechecked, Men with Pens has a photo on their About page. Some of the other blogs that I had listed as not having photos no longer exist.)
There are also many popular sites where the blogger's photo is evident, even prominent. Here are several of those:
What do you think? Is it necessary for a blogger to post their photo? Is it helpful?
Update: I've definitely changed my opinion on this issue. As of April 2015, I do think it's important to have a picture on your About page. If you look at mine, you'll see that I added one quite some time ago.
Contents (c) Copyright 2008, Laura Spencer. All rights reserved
Image Source: www.sxc.hu