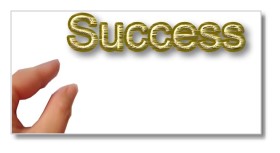 Have you thought about what success means to you, as a writer?
Success means many different things to many different people:
For some, success is fame.

For others, success is power.

For still others, success is obtaining wealth.
My take on success is a little bit different.
If you're at all familiar with the story of how I became a freelance writer, then you may already know that I was drawn to freelancing in my quest to balance my life: specifically my attempt to achieve a balance between my professional life and my time with friend and family. For me, no amount of fame, power or fortune would be worth the loss of friends and family.
I've actually found that keeping a healthy balance enables me to produce a better quality of writing. In the long run, better writing means more clients, which is good for business.
Over all, I feel that I'm successfully meeting my goal of a balanced life. Most of the time, I am able to achieve a comfortable balance between the personal and the professional. It does take work. I say "no" more often than I'd like. However, if you have a similar definition of success know that achieving balance as a writer is quite doable and well worth the effort.
How do you define success?
Contents (c) Copyright 2009, Laura Spencer. All rights reserved.
Image Source: Laura Spencer