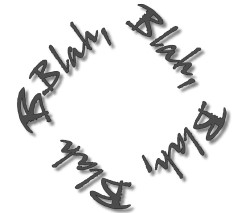 One of the common perceptions around the blogosphere is that you have to post every day, sometimes multiple times a day, in order to attract readers.
If you've been reading WritingThoughts for a while, then you know that I like to take a look at the "popular" blogs on Technorati from time to time. I find it helpful to analyze what they're doing and look for trends.
I decided to take a look at the posting frequency of the popular blogs. I found that most did indeed follow the model of posting often (sometimes very often). I also noticed that many of those same blogs have a large paid writing staff supporting them.
A few successful blogs, however, don't fit into the mold.
Two popular blogs (according to Technorati) that don't seem to post every day (as far as I can tell):
1. A List Apart #40 on Technorati
2. Zen Habits | Simple Productivity #58 on Technorati
Some of these blogs are great. Others I'm actually not very familiar with. My point is that it is possible to achieve some degree of blogging success without posting every day.
Some of my favorite bloggers who don't post every day include:
1. Randa Clay Design
2. Copywriter Underground
3. Michael A. Stelzner's Writing White Papers
4. Telling It Like It Is
(Actually, I could make the above list go on and on and on...)
I think that this is an important point, because there seems to be a lot of hastily composed content on the web that really isn't helping anybody. I wonder if some of it was written to meet an artificial daily deadline?
2015 Update: The statistics and information presented here are from 2008. A similar look at blogs might yield different results today.
Here at WritingThoughts I try to post about three times a week. I try to provide content that is helpful, or at least, that will stimulate discussion. To me, that's more important than having something new up every single day. (I hope that you agree.)
How often do you post?
Contents (c) Copyright 2008, Laura Spencer. All rights reserved