By Vivienne Quek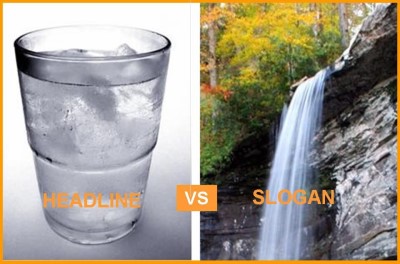 Many people think that writing a slogan is no different from writing a headline.
Why should there be any difference since both are supposed to be short, sweet and sharp; words that aim to attract and capture attention?
This is a common mistake. Creating headlines and slogans require a lot of information. Sometimes, clients get a little touchy:
Why are you asking so many questions not relating to my products?
Why do you care about our corporate philosophy, mission, purpose and such fluffy stuff?
That's when I have to take in a deep breath and start sharing the importance of such information and the distinctions between a headline and a slogan.
1. Tenure and Function
A headline is a quick way for your client to learn of your company's offerings and benefits. A headline is an ad within an ad. It is the bait that lures the target audience deep into your lair so that you can achieve a buy-in. Headlines are certainly not words that are simply placed in the top position of an ad to be read first!
A slogan, on the other hand, is essentially a promise made by the company to the customers on the values and benefits they will receive. Coca Cola promises that its soda is the de facto "real thing" while Nike champions the victorious spirit of "just do it" without fear and hesitation.
You could say a slogan is a made-easy-to-understand mini-vision or a mini-mission statement. Writing a slogan is not about creating a brand image or corporate identity. The company must BE it (what the slogan represents) before the slogan itself can be created. It's a "Be. Do. Have."
The company must do what it takes to add value but while the "doing" part is critical, "being" comes first. If the company is not what it claims to be, whatever it does will not be congruent to the crafted slogan. If your client can call your bluff, the company can forget about having loyalty, sales and revenues. From the slogan, the client can tell a thing or two about the company's personality, business, and even ethics, blueprint.
Headlines will be changed frequently to suit the objectives and sentiments of the specific advertisement; it will serve for the short term. While a slogan is the foundation stone and will be anchored for a long time
2. Start and End Points
Writing an advertisement headline is objective specific. It is written to meet the target of selling "an interest-free home mortgage loan" or to promote that special patented moisturizing ingredient in the detergent that "will not dry hands." Whether the headline is long or short, as long as it can attract attention, arouse interest, evoke desire and get the audience to take action; the headline works. In short, you can set your criteria, put a yard stick in place, measure your results and calculate your returns on investment simply by changing the headline – without touching other elements. When the client has a clear and specific objective and understands which niche he is talking to, the copywriter can choose the right words and use the desired tone and manner to command a response. Even if the client isn't very articulate with his brief, a seasoned copywriter will know what the job calls for.
For slogan writing, it is a totally different story. The challenge comes when the clients are business owners who sell their wares without purpose, commitment or passion. There is no big dream, no promise and no personality to showcase. Their products are basically me-too products with few differentiations from the rest. Each time they list a selling point, we would say "That's a feature" or "So what? That's nothing new." Can a copywriter jump in and tell the boss, "let me put on my thinking cap and come out something really meaningful?" He can but should he and will he? The directive must be set by the business owner because he should be nurturing his own baby and not just push it to a caregiver. So a copywriter, when faced with such a situation, will have to lead and guide the client down a thinking process to learn the underlying meaning of their business existence. This is why slogans like "We Try Harder," "Absolutely, Positively Has To Be There Overnight" and "We bring good things to life" resonate with their target audience.
Headlines appeal and beckon to our five senses to create a "wanting" rush and evoke buying. Slogans are emotionally driven from the heart to establish a tight bond and a long term relationship between the seller and the buyer.
3. Length Matters
Regardless of the length, as long as the headline can achieve a buy-in effect, it ticks. See David Ogilvy's 18-word "At 60 miles an hour, the loudest sound in the new Rolls Royce comes from the electric clock" or John Caples's 15-word "They Laughed When I Sat Down At The Piano – But When I Started to Play!" A slogan is usually much shorter; the norm is six or seven words. It should be short so that it is easily recalled and repeated. It must be memorable so that it can maximize mind share. It should be simple, so that the message is clear and specific. It must be campaign-able otherwise who can know and resonate?
William Shakespeare put it so succinctly, "When words are scarce they are seldom spent in vain."
While this is not a full discourse, I hope that the above has given at least an inkling of some key differences between a headline and a slogan. And the next time you speak with your marketing people, you will know what you really want.
Today's guest post is from Vivienne Quek. Vivienne is a marketing and advertising professional with nearly 20 years of experience. She owns a turn-key advertising agency. Vivienne blogs at Versa Creations.