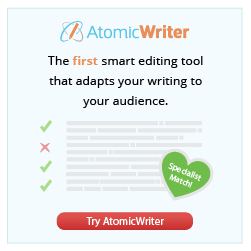 If you write web content, you're familiar with the struggle. Like me, you may wonder, how do I attract readers and get them to respond to and share my content?
Even the most carefully crafted piece of content might not get any reader engagement.
There's nothing more frustrating than spending hours on an article only to have no one read it. Yet this happens all the time. It's happened to me. It's probably happened to you.
You can never be certain how your readers will respond to the content you write.
That uncertainty is why I was excited when I was invited to learn more about Atomic Reach's content marketing tools. The purpose of these tools is to help you increase reader engagement. AtomicWriter helps you create more engaging content. AtomicInsights helps you measure the reader engagement.
This post is my review of AtomicWriter, which is free.
Disclosure: The folks at Atomic Reach have provided me with a demo. I also received access to the Pro Writer Package. This post reflects my honest opinion of the product.

[Read more…]