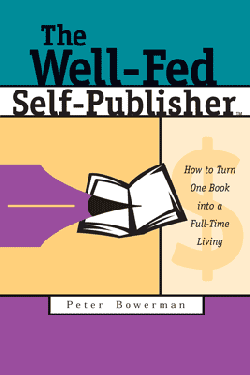 I've had a curiousity about self-publishing for a time now. Actually, I think that most writers are curious about it.
When the opportunity came up to review a copy of Peter Bowerman's new book, The Well-Fed Self-Publisher
(affiliate link, I receive a small fee for each book purchased), I jumped on it.
I confess that I've also had preconceived notions about self-publishing. Before reading Peter's book I pictured self-publishers paying thousands of dollars to get published, only to find that a few friends and relatives are the sole purchasers of their book.
As soon as I saw Peter's site and looked through The Well-Fed Self-Publisher
, I realized that my preconceived notions must be wrong.
There are some serious reasons why you (and I) should consider self-publishing. For one thing, self-publishing can provide an income stream that can help support you through slow periods (or maybe support you entirely).
When I complete a writing project now I get paid and that's pretty much the end of it. If you market a self-published book properly, then you could receive income from the book for months, or even years, after you've completed it.
Peter's subtitle for the book is "How to Turn One Book into a Full-Time Living" and the book definitely gives you some tools The Well-Fed Self-Publisher's (affiliate link, I receive a small fee for each book purchased) main focus is not not just on getting a book published, although that's covered, but on the part of self-publishing that I would personally dread – sales and marketing of your published book.
Peter covers marketing in a way that you've probably never seen before – a way that is specific to the needs of writers. His coverage of marketing starts in Chapter 4 with a discussion on "Targeting Buyers and Building Demand" and continues throughout. He covers everything from getting your book listed on Amazon.com to mainstream media to websites to spinoffs.
Peter's style is so no nonsense and so readable that you might not even realize at first that he's taking you step-by-step through an extremely doable marketing process for authors.
If you've ever even considered self-publishing, then you need The Well-Fed Self-Publisher
(Affiliate link, I receive a small fee for each book purchased). (And what writer hasn't considered self-publishing?) This book has earned a place in my permanent reference libary as a resource that I know that I'll use.
Have you read Well-Fed Self-Publisher?
If so, what did you think?
Image Source: The Well-Fed Self-Publisher