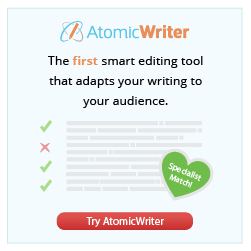 If you write web content, you're familiar with the struggle. Like me, you may wonder, how do I attract readers and get them to respond to and share my content?
Even the most carefully crafted piece of content might not get any reader engagement.
There's nothing more frustrating than spending hours on an article only to have no one read it. Yet this happens all the time. It's happened to me. It's probably happened to you.
You can never be certain how your readers will respond to the content you write.
That uncertainty is why I was excited when I was invited to learn more about Atomic Reach's content marketing tools. The purpose of these tools is to help you increase reader engagement. AtomicWriter helps you create more engaging content. AtomicInsights helps you measure the reader engagement.
This post is my review of AtomicWriter, which is free.
Disclosure: The folks at Atomic Reach have provided me with a demo. I also received access to the Pro Writer Package. This post reflects my honest opinion of the product.


Who Is This Tool For?
You may be wondering if this tool could help you. If you write or publish content my answer is that you should find it helpful.
Not only could this tool help writers, but it could also help publishers, editors, and brands.
Since the tool helps you hone in on what your target audience needs, using it should help you produce better content. Better content means more engaged readers. Who doesn't want that?
One of the first questions I asked during my demo was the source of the information. I was relieved to learn that it's not just based on someone's opinion.
The Atomic Reach team has collected and analyzed content performance data over the past few years. They've based the algorithms on real data. The team continues to study content performance data and they assured me they would update the algorithms if the data changes.
Let's take a closer look at AtomicWriter.
AtomicWriter
The most basic level is the Writer Package. The tool is designed for a single writer working on a single website. It can be installed as a WordPress plug-in or as a Chrome Extension.
This level is the easiest to set up. In fact, it's actually free to download and use.
AtomicWriter is different from other editing tools because it checks to see whether your content fits your target audience. You can choose between these five audience levels:
General
Knowledgeable
Specialist
Academic
Genius
The audience levels are not grade level measures like I've seen on other tools. Instead they represent the reader's knowledge of and comfort level with the topic.
After you select the type of audience you are writing for, AtomicWriter analyzes how well your content matches that target audience. You receive a score based on how closely your content matches.
For example, I used AtomicWriter to score my recent post, 10 Golden Rules of Self-Editing. Here's what I saw: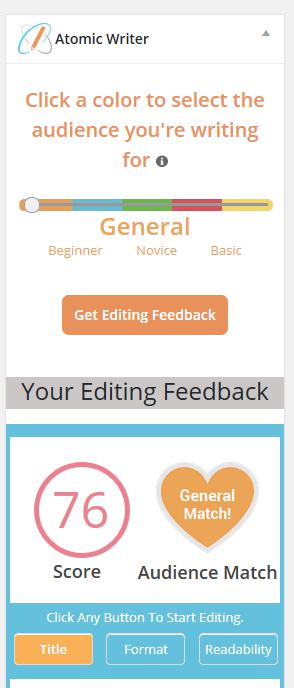 This means that the post is geared to a general audience. It scored 76. According to the folks at Atomic Reach, anything over 60 is considered good.
To see the AtomicWriter review of the title, format, and readability of the piece, I can click on each of the three buttons in the blue bar. Let's take a closer look at the Format button results: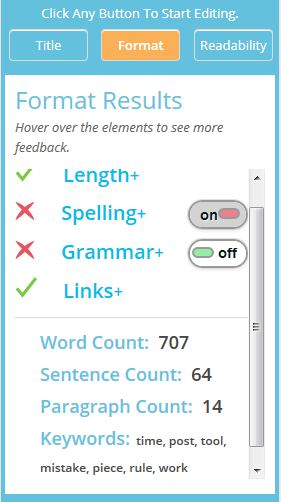 Generally speaking, a green check means that I don't need to improve anything. A red x means I need to take a closer look at something.
It turned out the spelling "error" was the name of the IStock photo provider. That's not an error, but of course AtomicWriter couldn't know that. (You can add words to the dictionary if you use unusual terms.)
The tool flagged Grammar because I used forms of the verb "to be." AtomicWriter was alerting me to a possible passive voice problem.
I could have also clicked on the Title or Readability button for more suggestions on how to improve the content.
AtomicInsights
How do you know what type of audience you should write for? How do you measure how your content is performing across your website and how does that performance compare to your audience?
These are excellent questions. And that's where AtomicInsights comes in. I didn't get a chance to review AtomicInsights for this review, although I am very interested in it.
From the demo I saw that AtomicInsights accesses your social media data and Google Analytics data to provide detailed reports about how your content performs across your site. It includes information about audience level, traffic and even provides data that can help you decide when to post.
I did have some problems trying to set this part of the tool up. Apparently, I'm in the 3% of websites that need extra help with set up. However, the support team at AtomicReach is working closely with me to finish the set up. I hope to finish setting it up and review it at a later date. If I do, I'll link to that review here.
I've always wanted to build a stronger blog, but haven't had the right tools to do it. AtomicInsights seems to offer the information I need in one place. I can see myself getting lots of use from the AtomicInsights features over the next few months to grow my blog.
Tip: Be sure to whitelist AtomicReach if your site is behind a firewall. That was one cause of some of my problems.
My Thoughts
AtomicWriter (the Writer Package) has a lot of functionality. Since it's free, it's certainly worth trying out. Depending on how important your content is to your business plan, you may also want to try one of the more advanced packages.
Besides AtomicWriter, there are actually four more levels of AtomicReach software:
AtomicWriterLite. This is a web-based tool that lets you try AtomicWriter without downloading it.
The ProWriter Package. This works as a Chrome extension. It includes AtomicWriter and it also has AtomicInsights, which analyzes the content on your entire site. It provides data on both individual titles and across your entire publication.
The Marketer level. Mid-size publishers will want this. Use this level with a team of up to three writers. It includes the features I've described above plus AtomicStudio features.
The Enterprise level. This is a great content management tool for publishers and brands who manage multiple websites and teams of writers. It includes everything in the previous levels.
This page describes the various levels of software.
My experience with technical support was superb. When I used it the team responded quickly. Team support is available with every package. According to the website, the larger packages also have dedicated account managers.
I think it's important to understand that these tools analyze the response to the content you create. They also help you tailor that content to your audience.
But you still have to create that content and promote it yourself. If you don't publish or share your content, the tools won't be of much use. Also, it's up to you to make sure that any content you create is of the highest quality. You'll still need your creativity.
All-in-all, I feel this is a tool that can have a long-term impact on your content marketing strategy.
Share Your Thoughts
If you decide to try this tool, I'd love to hear from you. Share your thoughts in the comments.
P.S. This post got a score of 69 for a Knowledgeable audience. Not my best score ever, but still well above 60.