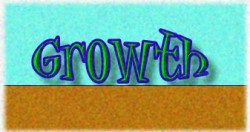 Living things grow and change.
That's an indisputable fact, and growth is often for the best. It can lead to changes which can lead to improvement.
But, when it comes to our professions, many of us are not growing. We're not changing, and we're not getting better.
Our writing consists more and more and more of exactly the same thing.
Let me ask you this: when was the last time you tried something new with your writing?
Can you even remember?
It doesn't take much to start the growth process:
A class absorbed
An opportunity explored
A chance taken
So, what's keeping you? Get out there and grow today!
Contents (c) Copyright 2007, Laura Spencer. All rights reserved
Image Source: Laura Spencer of WritingThoughts.