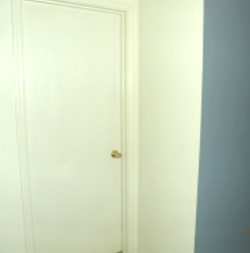 First of all, thanks to all of you readers for being so patient and waiting for me to get through my move.
(As for those of you who lost patience and unsubscribed to this blog, well, you probably aren't reading this – are you?)
First of all, I promised on Twitter that I would post a photo of my office door – so here it is. As you can see, the door to my office shuts (which is something I didn't have before).
Naturally, things are taking longer than I thought – but I have gotten the opportunity to work in my closed office this week. What I've discovered is that I miss the noise just a tiny bit. When I shut the door the quiet in here even seems a bit eerie.
Right about now you're probably thinking to yourselves, "what, she complained and complained about how noisy her office was and when she finally does get a door she complains about that too."
Well, hold on. I'm not about to give up this new office by any stretch of the imagination.
However, I do think that my slight homesickness for my noisy office just goes to prove how adaptable we are. (We are probably more adaptable than any of us realize).
I had adapted and become accustomed to working in a very noisy environment so now a quiet office, my ideal environment, seems a bit strange to me.
(Of course, in a few weeks I will have adapted to this environment and it will feel more familiar. In fact, I expect to spend many productive hours in here.)
What all this really means is – no more excuses. Whatever circumstance it is that you think is holding you back probably isn't.
Contents (c) Copyright 2008, Laura Spencer. All rights reserved
Image Source: Laura Spencer