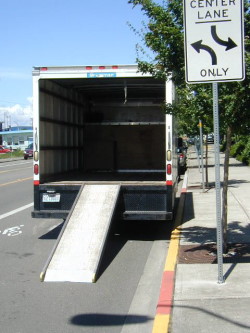 All writers should change physical locations once in a while.
Some of you may know that we are in the process of moving our household from one physical location to another.
While the move is a very good thing for our family (nicer area) and for my business (a real office with a real door), it's going slower than expected.
It's going slower than expected for two reasons:
We're doing most of the moving ourselves to save money
We've lived in this place so long (hint: my teens don't remember living anywhere else) that we've accumulated a lot of stuff
It's probably that last one that's taking the the most time. You see, we're now sorting through stuff that we didn't even know we had. As we sort we ask these questions:
What is it?

How did we get it?

Why do we still have it?
Are we going to use it?
As we sort, it occurs to me that these are not bad questions for a freelance writer to ask about their writing business (or a blogger to ask about their blog).
Contents (c) Copyright 2008, Laura Spencer. All rights reserved
Image Source: www.sxc.hu