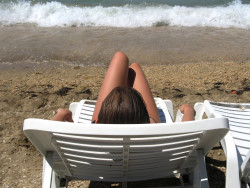 Lately the Internet seems to be infiltrated with folks who, for lack of a better word, seem to be workaholics. Not only do they work long hours – seven days a week – they advise others to do exactly the same thing if they want to be "successful." (…and proud of it, too…)
The first thing that I would advise any young person who came to me for advice about their career (whether their career was in writing, or in some other field) would be to make sure that they take the time to take care of themselves. The human body and human psyche are just not designed for robotic, round-the-clock labor – even when you do enjoy what you do.
It's difficult advice to get others (especially young people) to listen to. Why is that? Because the other way seems to work – at least, at first. When you are starting out, the "workaholic way" appears to be the way to success. Initially, it will appear that you are getting much more done and achieving much more when you overwork.
In the long run, however, overwork does not pay off. For one thing, most (dare I say, all) people cannot sustain this type of life month after month, year after year, without relying on some sort of artificial (usually unhealthy) stimulant. At the very least, overworking puts you on the fast track to burnout. At the worst, it will rob you of your health and ultimately your life. (I know, I'm old enough to have seen colleagues drop dead from heart attacks and other stress-related problems.)
The point to my rant is, whether you are a writer or a plumber, you should be making some time for yourself.
One of my goals with WritingThoughts was to build a community of writers. This isn't just your standard writing advice blog. If you've been here a while, then you know that I make an effort to get to really know my readers – answering comments and visiting their blogs. With that in mind, I thought it would be fun if we shared what we do when we're not writing.
I'll start – I enjoy beach vacations, visiting historic homes and museums, photography, and reading. Most of all, however, I love to spend time with my family.
What about you?
Contents (c) Copyright 2008, Laura Spencer. All rights reserved