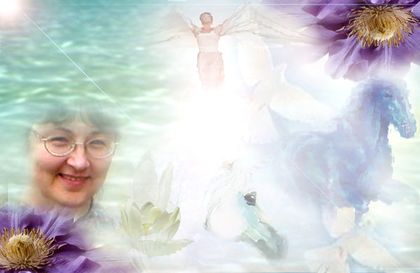 Mihaela Lica (Mig) at Pamil Visions gave me a rare gift recently. She allowed me to see myself as she sees me. Or, at least, as she sees my dreams.
Mig normally blogs about public relations, marketing, and SEO issues. However, she's also a very talented artist. A few days ago she created this collage of MsPurple and posted it on her website. She then invited readers to submit their own photos so that she could create a collage for them.
To make a long story short, I took Mig up on her offer and the photo above is the result of her work. Isn't it beautiful? If I can figure out how to print it out in color, I'm going to frame it and put it on my office wall to remind me of why I blog. (If not, maybe I'll have to turn it into a screensaver.)
An Online Gallery of Collages
Do you want to see more of Mig's collages? I thought that you might. Here's some links to some other collages that she's done. (If I find more, I'll add them to this post.):
In fact, you can see these images and more. Mihaela has just posted the first batch of images to her site.
A Free E-Book Too!
I can't leave this post without linking to Mig's new free e-book. Her topic is SEO and WordPress and she really knows her stuff! I downloaded a copy and already I've learned a lot about what to do differently the next time I set up a blog.
Thank-you Mig for all that you do!
Contents (c) Copyright 2007, Laura Spencer. All rights reserved.