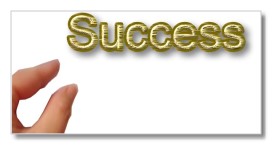 You've been working hard to build your company image online and in local print publications.
You've established a website. You've worked hard to create a social media presence. You may even have a blog.
Maybe you've paid to have a special logo designed for your business or to have a custom website created.

Yet, something is wrong. You're not getting the business that you should be getting from your marketing efforts. You know that customers are visiting your website, but they never seem to follow through and place an order.
Success seems to be just out of your reach . . .
Of course, there are a variety of things that could be wrong with your marketing effort.
One common problem that many companies overlook is the quality of the writing on their website and the quality of writing in their printed materials.
In the minds of many customers, sloppy writing equals sloppy work or sloppy products. They are hesitant to buy from a company whose website or printed marketing materials are not well-written.
Take a good hard look at your marketing materials and website.
Are there some typos?
Are there misspelled words?
Are there sentences that could be worded more clearly?
If you found problems, fortunately there's an easy fix — hire a professional writer to review your marketing materials before you publish them. He or she can find and correct errors as well as suggest more effective ways to communicate with your potential clients.
Are you still not convinced? Read Ten Reasons Why You Should Hire a Professional Writer to learn more about what a professional writer can do for your business.
For information about hiring WritingThoughts for your writing project, click here.
(Disclosure: I am a professional freelance writer and I do receive compensation for the writing projects that I do.)