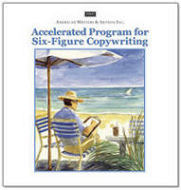 "How can I earn more money as a freelance writer?"
This is probably the number one question that other freelance writers ask me. My answer to them is always the same.
My answer is this–write for the business market. You may not get a byline, but the pay for commercial copywriting is much better than the pay for blogging or writing for magazines.
How to Earn More Money
It's an easy answer, but not so easy to implement. Many writers simply don't know how to make the transition to copywriting.
Until now, I haven't really had a good solution to recommend to other freelance writers. I've been able to tell them what to do to take their freelance writing business to the next level, but not how to do it.
All that has changed now. A few weeks ago, I was asked to review AWAI's Accelerated Program for Six-Figure Copywriting. Naturally, I was skeptical. I'm asked to review a lot of ebooks and other materials and frankly I don't have time to look at most of them.
Comes Highly Recommended
However, I already knew that a respected colleague, had a high opinion of AWAI. So I decided to take a look.
I'm glad I did.
This is exactly the type of program that any freelance writer who wants to earn more money needs to take advantage of. In fact, after looking over the program thoroughly I even decided to become an affiliate for it (something I rarely do). So, yes, the links to the Accelerated Program for Six-Figure Copywriting in this post are affiliate links, which means I receive a small fee for each purchase. But, I would give you the same opinion even if they were not.
What Do You Get?
So, what do you get when you sign up for this program?
That's what I wanted to know, and I bet you do too.
I was pleasantly surprised to find out that you actually get quite a bit for your money. If you look at the dollar amount only, you'll see the program's not cheap. But when you add up everything that's included I think you'll agree with me that it's well worth it.
Here's what you get when you sign up:
13 Chapters totaling 518 pages
Additional materials for writing exercises
Plus bonus webinars & reports
And of course, you'll have access to the AWAI site and the community there.
The material uses the tried and proven training technique of introducing a concept, providing an example, and then giving you a chance to apply what you've learned. As you work through the course, you'll actually be honing your writing skills as you go.
Unlike other progams, the Accelerated Program for Six-Figure Copywriting (Affiliate Link, I receive a small fee for each purchase) is not based on the advice of a single copywriter. Rather, several different professional copywriters provided so that you can take advantage of the experience of all of them (a feature that I particularly liked).
An Investment
I've been working my way through the course myself, and I can tell you that this is something that a serious writer should consider to be an investment.
It's an investment of both time and money–but aren't most things that are worthwhile?
If you decide to make this investment in your writing career, be sure to allow yourself enough time to work through the program. You won't be able to go through all of this material in one sitting (not even close). Personally, I look at it as similar to taking a college course. I plan to dedicate at least four hours a week to it.
The price for the e-program (the one that I'm taking) (Affiliate Link, I receive a small fee for each purchase) is regularly $497 (but check the links in this post for their latest special).
By the way, I'm not the only one recommending the course. You can read their Better Business Bureau report here and you can find testimonials from other writers here.
Your Turn
So, what about you? Are you really ready to earn more money as a freelance writer? What's keeping you from making the investment?