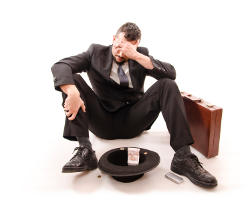 Do "prospects" ask you to write for free or way below market rate?
If you're a freelance writer, chances are good that you've been approached by a so-called "prospect" with an offer you must refuse.
You must refuse the offer if you want to stay in business, that is. After all, you can't spend all your time working for nothing, or next-to-nothing, if you want to earn a living as a writer.
It always amazes how much effort some folks will go to in order to take advantage of writers through lousy freelance offers. Don't just take my word for it. Check out the experiences of other freelance writers.
Lori Widmer does a good job of documenting some of these bad offers in her series on her Words on the Page blog, Writers Worth: This Job, Not That Job. Deb Ng lists some more bad writing opportunities on kommein blog in the post, Here's What's Wrong With Freelancing Today.
The worst thing about these opportunities is that some writers will fall for them.
In this post, I list five of the most common types of bad gigs freelancers face and examine what's wrong with each of them. So, the next time you're tempted to accept a bad offer, check here first. Then say "no."