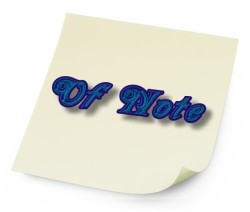 Updated September 16, 2014. The Writer Dad blog has been replaced by the Sterling and Stone website. It's still owned in part by Sean Platt.
Okay, I came upon this week's "Of Note" choice through a comment he left on one of my posts. (You see, it really does pay to leave those comments. . . sometimes.)
It doesn't matter how I found this blog though, I've enjoyed following the WriterDad blog for the past few days.
The WriterDad blog is more of a personal journal, than a typical writing blog. Normally, I don't follow this type of blog (let alone profile it). The author of this blog does such a good job, I decided to make an exception.
This blog is written by a writer known only as (you guessed it) "WriterDad." I don't know who "WriterDad" is, but he does have a way with words. I like the way that he starts each post with a famous quote too.
Contents (c) Copyright 2008, Laura Spencer. All rights reserved
Image Source: Laura Spencer