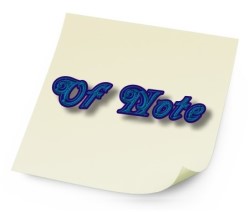 This week's "Of Note" blog is Karen Swim's Words For Hire. Karen has a great way of telling stories that teach. A perfect example of this talent can be found in her recent post, Forward Momentum Begins With Standng Firm.
I also liked Is it Social or Is It Business? which discusses networking in a slightly different light.
If you're looking for a good writing blog with a unique voice, this is it. Karen has an original way of expressing ideas and concepts. I highly recommend that you pay Words For Hire a visit.
Last week's "Of Note" blog was Rogue Ink. You can read my review here.
Note: If you're consistently posting great information and haven't seen your blog featured in Of Note yet, I apologize. I'll probably find you soon. But hey, why not drop me a note (laura at symbol writingthoughts dot com) and tell me why you think your writing blog is notable? If I agree, then I just might feature it here.
Contents (c) Copyright 2008, Laura Spencer. All rights reserved