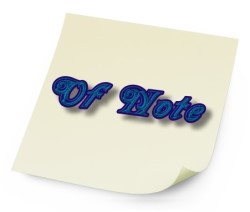 Once again I had to double check to make sure that I hadn't already featured this blog.
Nope! I'm okay, it's a "new" blog. Except . . . it isn't new. Susan Johnston has been the Urban Muse since 2006.
This blog is a gem of a resource for writers. Recent (and very useful, I might add) posts in just the past week include:
The blog is creative, and at the same time, is chock full of good advice. If you're a writer and you're not following the Urban Muse, then you're missing out.
Last week's "of note" blog was Words for Hire. You can read the review here.
Note: If you're consistently posting great information and haven't seen your blog featured in Of Note yet, I apologize. I'll probably find you soon. But hey, why not drop me a note (laura at symbol writingthoughts dot com) and tell me why you think your writing blog is notable? If I agree, then I just might feature it here.
Contents (c) Copyright 2008, Laura Spencer. All rights reserved