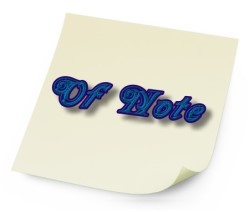 Today's "Of Note" selection is a little different. It's a multi-author blog featuring many of my favorite writers – The Blood-Red Pencil.
The list of authors (or should I say editors?) for this blog reads like a who's who of the writing blogosphere:
The huge group of successful and experienced contributors only serves to enhance this writing blog's value.
If you're a writer and you're serious about it, then you should be editing your work. You need to be reading The Blood-Red Pencil.
Note: If you're consistently posting great information and haven't seen your blog featured in Of Note yet, I apologize. I'll probably find you soon. But hey, why not drop me a note (laura at symbol writingthoughts dot com) and tell me why you think your writing blog is notable? If I agree, then I just might feature it here.
Contents (c) Copyright 2008, Laura Spencer. All rights reserved
Image Source: Laura Spencer