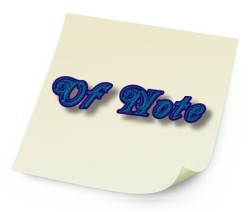 This week the "Of Note" blog is the personal blog of freelance writer, Katharine Swan. Swan's Blog is a great resource for other freelance writers as well as a way to keep up with the writer's own accomplishments.
Katharine Swan has a way of covering topics comprehensively and in language that anyone can understand.
If you're not a reader of Swan's Blog, then you may want to stop by and see what she has to say.
The previous "Of Note" blog was Daily Writing Tips. You can read about it here.
Note: If you're consistently posting great information and haven't seen your blog featured in Of Note yet, I apologize. I'll probably find you soon. I know there are a lot of great blogs out there; I discover more new ones each day. (So many blogs, so little time.)
Contents (c) Copyright 2008, Laura Spencer. All rights reserved