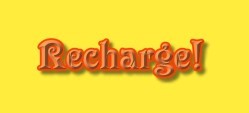 Last week we talked about what we do in our time off. Not only did I get to know some of you a little bit better by learning your hobbies, the post evolved into a great discussion about writer burnout and workaholism.
This week, I'm going to practice what I preached by taking the time to recharge my writing batteries. I love writing, but I know that I can't do my best when I'm tired and stressed (which is how I've been feeling lately).
Fortunately, thanks to the great community here at WritingThoughts, I'll not be leaving you without something to read. (This is another reason why it's so important for writer's to network.) Several WritingThoughts readers have agreed to provide guest posts for this week (and they truly are excellent).
Here are some of the great posts that you can look forward to this week:
On Wednesday,

Vivienne Quek

of

Versa Creations

discusses the "Differences Between Headlines and Slogans."
You won't won't to miss any of these exciting guest posts! Then, when you have left your comments and encouragement here, be sure to stop by each guest blogger's home blog.
A special thank-you to all of my guest bloggers this week. Enjoy the posts!
Contents (c) Copyright 2008, Laura Spencer. All rights reserved