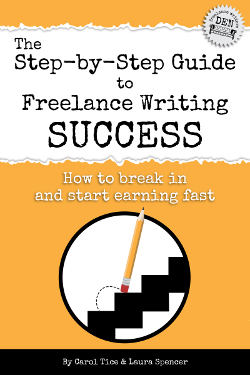 Is freelance writing easy?
Having worked as a freelance writer for a dozen years, I'd have to say, "no." There are plenty of obstacles and pitfalls that freelance writers face.
Of course, long-term freelance writers learn to overcome the obstacles, often through trial and error. Some of those lessons you'll learn along the path to successful freelance writing are pretty hard. You may even want to give up.
But, what if there were a better way? What if you could easily sidestep some of those pitfalls and meet the challenges head on? You'd want to do it, right?
To avoid a long and painful freelance writing learning curve, you need to know what long-term successful freelance writers already know and you need to know it now. If you could have access to such information, you'd have a head start on a successful freelance writing business.
Fortunately, there is a way for you to discover what long-term freelance writers know. I teamed up with Carol Tice, founder of the popular blog Make a Living Writing and the Freelance Writers Den, a few years ago for The Step by Step Guide to Freelance Writing Success Bootcamp webinar series. If you missed the bootcamp the first time around, a recording is still available to members of the Freelance Writers Den. (Affiliate Link, I receive a small fee with each purchase)
However, webinars aren't convenient for everyone. You may learn better by reading material. You may want to print information out to underline sections you like. Or, you might not yet be a member of the Freelance Writers Den.
That's why Carol and I decided to convert this popular webinar series The Step by Step Guide to Freelance Writing Success into an ebook. You can purchase the ebook here or get it through the Freelance Writers Den.
(Note: I am an affiliate for the Freelance Writers Den. This post has some affiliate referral links.)
A Sneak Peek Inside
You're probably wondering what's included in The Step by Step Guide to Freelance Writing Success. Well, the short answer is… everything that we discussed in the webinars, and then some. We've updated the seminar materials to add a few new tips. Plus, we're including a bonus workbook with the ebook that you get only if you purchase the ebook on this blog or through Carol's Make a Living Writing blog.
Here's just a few of the things you'll learn:
How to find the best first writing markets
How to follow the money to find the best pay
7 types of great break-in assignments
How to get your first clips
How to find paid work
And that's just a sampling of what you'll find in the first two chapters. There's much, much more. The ebook contains a total of six chapters and each one is full of information you need as a freelance writer. Order now and get a special introductory price.
Who Will Benefit the Most?
Is this ebook for you? The ebook was designed to help new and struggling writers overcome common freelance writing problems, but even experienced writers can pick up a few tips from it.
This ebook may be for you if,
You're a freelance writer, but you're struggling to find work.
You're a freelance writer, but you're not earning enough money.
You're a freelance writer, but you'd like to expand your writing business.
You're not a freelance writer yet, but you'd like to become one.
You're a successful freelance writer, but you can always use more tips on how to improve your business.
I wish I'd had this resource when I started out as a freelance writer. It would have saved me a lot of time.
Purchase your copy of the ebook and workbook here.
Your Turn
What is your biggest freelance writing obstacle?