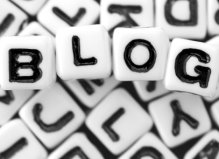 I have a guilty little secret. I've found some great new writing blogs from fellow writers–but instead of sharing them with you, I've selfishly kept them to myself.
Well, today it's time to pay it forward and share some of those writing resources.
I'm featuring a list of some of the blogs that I've enjoyed recently, plus a little bit about each blogger.

In no particular order, here are some writing blogs you may wish to check out:
One of the great things about freelance writing is that there is a huge writing community out there to connect with. These blogs represent just a few members of that writing community. If you'd like to connect to the writing community yourself, a great way to do that is by leaving comments on other writer's blogs. (You can start by leaving a comment on this post.)
In fact, one of the early features of this blog was a weekly review of various writing blogs. In retrospect, I think those reviews helped connect me to the online writing community more quickly than I otherwise would have gotten connected. I've since stopped publishing the weekly reviews, but you can view the first year's worth of writing blogs that I reviewed here. (A few have been discontinued, but most still exist.)
Anyway, I've shared some of my favorite blogs from fellow writers. In the future, I plan to share more writing blogs (along with other great content).
In the meantime, what are your favorite writing blogs?