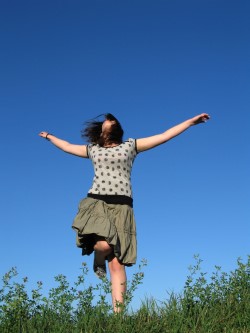 I paused as I finished writing a recent blog post for a client to take a look at my work.
"Yes," I thought to myself, "Miss R. would definitely have marked this one up."
I counted two. . . no, three sentence structures that my high school English teacher, Miss R. would have marked in red.
"Yep, there's a cliche. Here's an incomplete sentence. And, there's a sentence that I've started with a conjunction."
In my high school days, all of those "mistakes" would have been corrected by my English teachers.
The difference is that back then I was learning proper grammar and sentence construction and now I am making these constructions on purpose to achieve a conversational tone. Plus, I'm doing it with my client's full knowledge and approval.
Often, when I blog I try to achieve the same tone that I would use during a personal conversation. Sometimes, I actually imagine myself discussing the post verbally with a reader.
While I wouldn't use a conversational tone for every writing project, I think that conversational tone makes for good blogging.
Don't get me wrong! I'm very grateful to Miss R. and my other English teachers. I still love red ink. Without it, I'd never have become the writer that I am today.
Have you broken any writing rules lately?
Contents (c) Copyright 2008, Laura Spencer. All rights reserved
Image Source: www.sxc.hu