Post Updated 1-21-2010: The price has now been lowered to $19.00
Let me confess something: I rarely read e-books anymore.
That's because the last few times I read an e-book I was disappointed. Those e-books were twenty or thirty pages rehashing information that was available elsewhere on the Internet (and quite frankly, that I already knew).
That's why I approached reading The Unlimited Freelancer skeptically, even though it is written by a couple of colleagues that I respect greatly (Mason Hipp and James Chartrand). Click here to visit FreelanceFolder.com website! (affiliate link)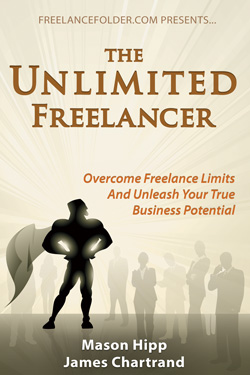 This time, however, I found more in the e-book than I expected. Much more!
What would you give if you were able to peak into someone else's successful business and learn all of their trade secrets?
In essence, that's exactly what The Unlimited Freelancer lets you do.
Mason and James walk you through the methodology, step-by-step, that helped each of them build a successful freelance businesses.
This isn't some rehash of common knowledge – this is a full-fledged business book (200 pages) that I know I will refer to often. I can easily see a print version of this book (not currently available) becoming a staple for most home offices.
Even if the business model presented in The Unlimited Freelancer doesn't fit your particular freelancing business – you'll learn something when you read this book and you'll find something that you can use.
You can purchase The Unlimited Freelancer through the FreelanceFolder website. Click here to visit FreelanceFolder.com website!
(Note: I received a review copy of this e-book. This post contains an affiliate link.)
Contents (c) Copyright 2009, Laura Spencer. All rights reserved.
Image Source: The Unlimited Freelancer, used with permission (Thanks Mason!)