When I was asked to review How To Say It (R) Business Writing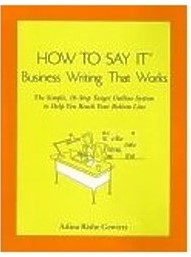 That Works: The Simple, 10-Step Target Outline System to Help you Reach Your Bottom Line by Adina Rishe Gerwitz for this blog, naturally I said "yes."
One question that I get asked a lot is: "how can I learn to write like you?"
Or a friend or family member will say to me, "I wish I could do what you do, I'm just not a very good writer."
Until now, I haven't really had a very good resource to send such people to for reference.
(Sure, I could send them to some of the textbooks and style guides I learned from in school, but chances are that they also used those same style guides and textbooks and didn't pick up what they needed to know.)
How To Say It is the perfect writing resource for someone who needs to learn business writing skills. By teaching readers to apply a simple outline system of writing (the Target Outline System) to a variety of business writing needs, Adina equips her readers with the business writing skills that they will need to succeed.
The book is also a great resource for someone who has basic writing skills, but is unused to applying them in a business environment.
Some of the business writing projects that Adina teaches her readers to tackle include:
Letters and E-mails
Basic reports
Performance evaluations
General proposals
Marketing Proposals
How-To Manuals (coming from a technical writing background as I do, I read this chapter with particular interest and I would say that she's on target here )
I especially like that the book concludes with a series of exercises. I think that writing in general, and business writing in particular, is one of those things that improves with practice.
If you are interested in pursuing business writing, then this book provides you with an effective writing system to help you succeed. The step-by-step approach makes learning business writing seem easy.
Have you read this book? What did you think?
Contents (c) Copyright 2007, Laura Spencer. All rights reserved