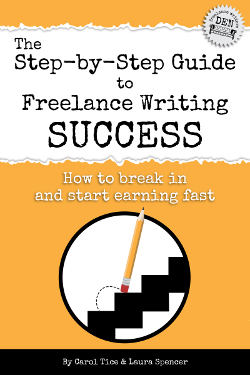 Getting started as a freelance writer can be scary. There's a lot to learn and you may not know where to turn for answers.
Did you ever wish that an experienced writer would sit down with you and share what they know?
Unfortunately, coaching and mentoring services can be costly. If you're just starting out as a freelance writer, they might be out of your reach.
Fortunately, now you have another alternative. I've teamed up with veteran freelance writer, Carol Tice of How to Make a Living Writing to create an ebook just for freelance writers, The Step By Step Guide to Freelance Writing Success. Not only is Carol the author of a well-known blog, she's also someone whose advice I personally trust.
With this ebook you get the advice of not one, but two, experienced writers. Together, Carol and I tackle some of the toughest problems that freelance writers face. And we do it in a friendly, dialog format that you'll love reading.
(Note: This post contains links to an ebook product that I sell.)
I have to tell you, I'm excited about this ebook. When I started out, I didn't know where to turn for advice, and I made lots of mistakes.
In fact, I put off becoming a freelance writer for several years simply because I didn't know where to start. This ebook would have made a huge difference for me back then and I think it will make a difference for you.
You may have missed our popular The Step By Step Guide to Freelance Writing Success webinar bootcamp series, but this ebook provides everything you would have learned from the series–right down to the participants' questions and our answers.
Plus, the ebook is affordable if you're just starting out. Our introductory price is only $4.99 (but that price won't last long).
The price is is $9.99.
If you'd like to learn more about the ebook, click here.
Your Turn
Have you already read The Step By Step Guide to Freelance Writing Success? If so, I'd love your feedback. Share your thoughts in the comments or drop me an email.